Product introduction
Hot dip Galvanized steel coils are widely used in the construction industry, as raw Material for the production of corrugated panels, fencing products, drywall panel profiles, ventilation systems etc. Recommended for both outside and inside usage, galvanized steel has a high resistance to corrosion in different environments, due to a protective layer of zinc of 100 – 275 grams per squaremeter.

Galvanised steel is mild steel with a coating of zinc The zinc protects the steel by providing cathodic protection to the exposed steel, so should the surface be damaged the zinc will corrode in preference to the steel Galvanised steel is one of the most widely used products, used extensively in the building sector, automotive, agricultural and other areas where the steel needs to be protected from corrosion
Hot-Dip Galvanizing or HDG is a process in which zinc bonds to steel at the molecular level to produce a four-layer corrosion-resistant finish. The first three layers are zinc-iron alloy layers that are actually harder than the base steel. The fourth or top layer is pure zinc.
The main process of hot-dip galvanized steel coil is chemically degrease and electrolytically degrease the cold-rolled coil, clean the oil on the surface of the steel strip, and then anneal in a reducing atmosphere annealing furnace, and then immersed in a molten zinc pot for hot dip galvanizing. After smoothing, tensioning, and finally passivation or oiling and other post-treatment processes. The purpose of hot-dip galvanizing is to improve corrosion resistance and extend the service life of the material, while having an aesthetic surface and increasing the artistic effect.
Galvanized steel is a carbon steel that has been coated with zinc. The most common method of zinc coating is the hot-dip process. … When the material is removed from the zinc bath and cooled a reaction to the oxygen in the air occurs.
The reaction causes the zinc to become part of the steel (an iron-zinc alloy bond).
Many people know what galvanized steel is. It is used for a wide variety of applications ranging from HVAC ductwork to gardening pails; household decorations to garbage cans. The spangle finish on the surface makes it visually appealing, but also makes it more durable and corrosion resistant.
So, how is galvanized steel made? Where does that spangle come from? Well, let's find out.
Product model
Grade

SGHC, SGCC, DX51D, Q195, all according to the customer's request

Standard

JIS G3302 1998, ASTM A653M/A924M 2004,EN10147,DIN,JIS J3302, all according to the customer's request

Thickness

from 0.12mm to 5.0mm, all available

Width

from 600mm to 1500mm, all available

Coil ID

508mm/610mm

Coil weight

from 3-10MT, according to the customer's request

Zinc coating weight

30g/m2-275g/m2, double side

Spangle

big spangle, normal spangle, small spangle, non-spangle

Surface treatment

Chemical passivating, oils, passivating + oils

Edge

mill edge, cut edge

Delivery time

within 7 days after receipt of deposit or L/C,T/T

galvanized steel coils

Surface treatment

Features

Chemical passivating treatment

minimize the chance of white rust forming during the transit and storage

maintain the bright shiny appearance for a longer time

Oils

minimize the tendency for storage and transit stain

passivating + oils

provide the protection from the storage and transit stain by special chemicals called corrosion inhibitors

Spangle of JIS G3302 SGCC zinc coated 0.2mm hot dip galvanized iron gi steel sheet in coil

Surface finish

Pattern

Application

Normal spangle

Standard spangles with flower pattern

General uses

Small spangle

Minimized spangles than regular

General painting applications

Non-spangle

Extremely minimized spangles

Special painting applications
Packing and Shipping
We offer different modes of transport depending on the customer's destination: rail transport and ship transport,etc.The Shipping Mark shall consist of: Trade mark, Seller's name, Product name, Applicable standards,Specifications, Package No., Contract No., Heat No., Weight of zinc film, Color, Production date, Weighing method, Net weight, Gross Weight, Consignee and Protection symbols, etc.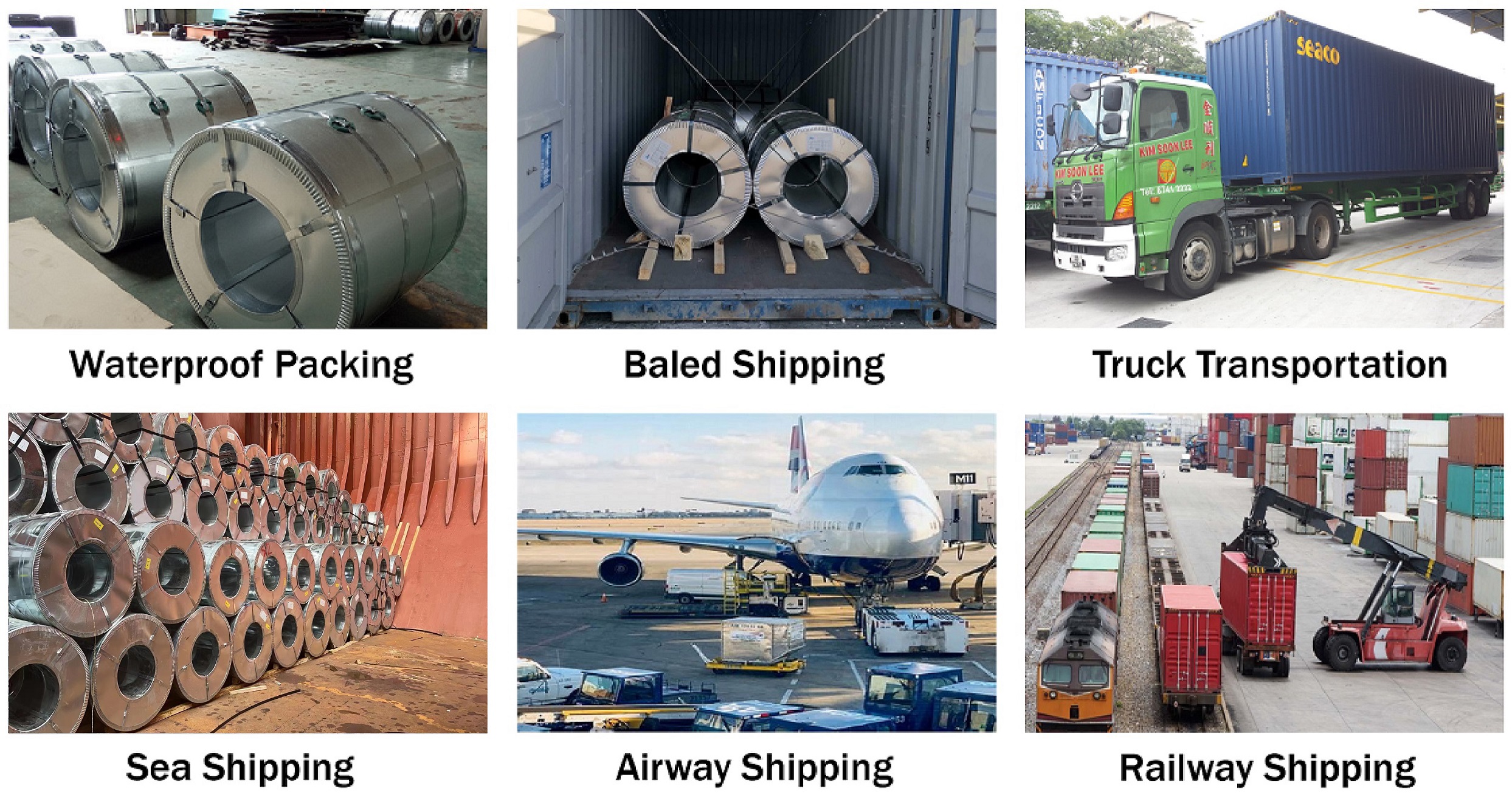 FAQ
Q: Why choose us?
A: Our company have been in steel business for more than ten years, we are internationally experienced, professional, and we can provide variety of steel products with high quality to our clients
Q: Can provide OEM/ODM service?
A: Yes. Please feel free to contact us for more details discuss.
Q: How is your Payment Term?
A:One is 30% deposit by TT before production and 70% balance against copy of B/L; the other is Irrevocable L/C 100% at sight.
Q: Can we visit your factory?
A: Warmly welcome. Once we have your schedule, we will arrange the professional sales team to follow up your case.
Q: Can you provide sample?
A: Yes, for regular sizes sample is free but buyer need to pay freight cost.