Product Description
The prepainted steel plate in coil is a product obtained by subjecting a hot-dipped galvanized steel sheet, and galvalume steel sheet, or an aluminum sheet to a surface chemical treatment (coating), followed by baking and curing.
Unrolling → Stitching machine → Entrance loop → Pretreatment → Initial coating → Bake → Cool down → Fine coating → Bake → Embossed film → Export loop → Inspection station → Cut → Coiling
The total thickness of the pre-panted galvanized steel coil is composed of the base steel – coating -primer – top paint – protective layer thickness. The top paint thickness is 10-25μm, and the back paint thickness is 5-20μm. The thinner the base
steel thickness, the higher the price of the ppgi steel coil, because the processing cost becomes higher.
* Usually, the paint coating Material is polyester (PE) and the color of the back paint is white grey. The color can be customized according to the RAL color card or customer samples. Special patterns can be made, such as wood grain, flower print,camouflage, brick.
PPGI Steel Coil Specification
Product Name

PPGI, Prepainted Galvanized Steel Coil,Carbon Steel Coil,Galvalume

Technical Standard

AISI, ASTM, BS, DIN, GB, JIS3312

Material

Dx51D, Dx52D, Dx53D, DX54D, S220GD, S250GD, S280GD, S350GD, S350GD, S550GD; SGCC, SGHC, SGCH, SGH340, SGH400, SGH440, SGH490,

SGH540, SGCD1, SGCD2, SGCD3, SGC340, SGC340 , SGC490, SGC570; SQ CR22 (230), SQ CR22 (255), SQ CR40 (275), SQ CR50 (340), SQ

CR80(550), CQ, FS, DDS, EDDS, SQ CR33 (230), SQ CR37 (255), SQCR40 (275), SQ CR50 (340), SQ CR80 (550); or Customer's Requirement




Thickness

0.13-1.20 mm

Width

600-1250mm

Zinc Coating

AZ30--AZ170, Z40--Z275

Color

all RAL Colors, or According to Customers Require/Sample

Coil ID

508/610mm

Top Side

Top paint: PVDF,HDP,SMP,PE,PU;

Primer paint: Polyurethance, Epoxy, PE

Back side

Back paint:epoxy,modified polyester

Surface Treatment

Passivation(C), Oiling(O), Lacquer sealing(L), Phosphating(P), Untreated(U)




Coil Weight

3-8 tons per coil

Package

Standard export package or customized

Hardness

soft (normal), hard, full hard(G300-G550)

T Bend

>=3T

Reverse Impact

>=9J

Pencil hardness

>2H

Salt Spray Resistance

>=500 hours
Production Line
PPGI Production Process Flow Chart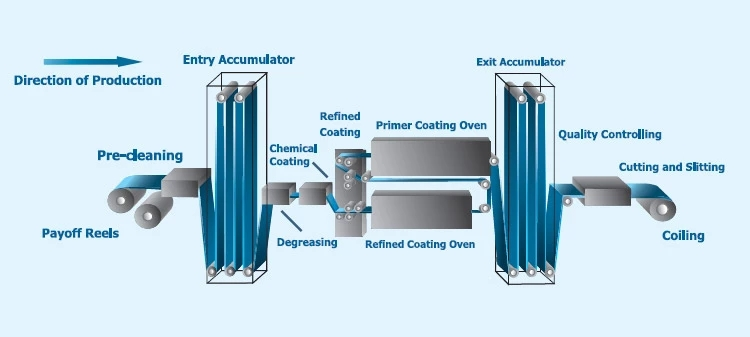 PPGI & PPGL Sheet Coating Layer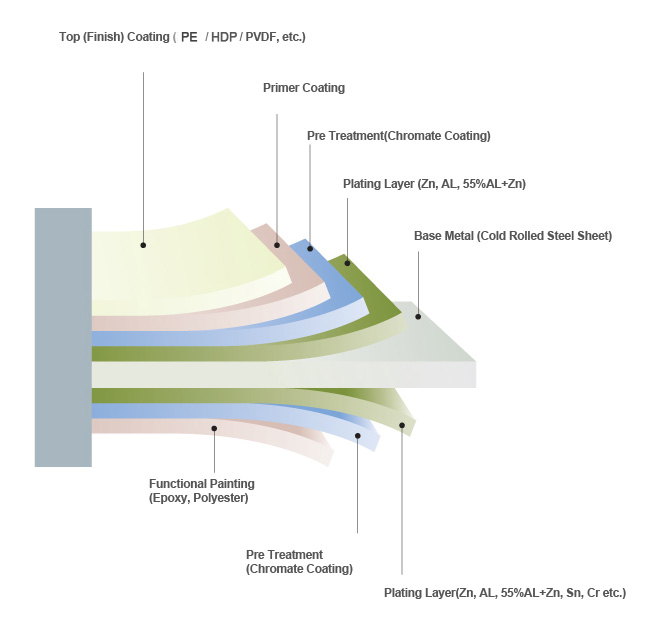 PPGI paint coating
Coating primer

Top paint coating

Service life(years)

1) Epoxy primer, good adhesion, water resistance, alkali resistance, chemical corrosion resistance, poor single toughness.
2) Polyester primer, good adhesion, good flexibility, sensitive to humid environment, chemical resistance is not as good as epoxy primer.
3) Acrylic primer, good adhesion, good toughness and high pretreatment requirements.
4) polyurethane primer, chemical resistance, abrasion resistance, durability, toughness

1) Polyester resin, good adhesion, molding and outdoor durability.

8-10

2) Silicon Modified Polyester (SMP)

10-15

3) High weather resistant polyester (HDP)

12-15

4) Polyvinyl fluoride (PVC)

12-15

5) Polyvinylidene fluoride/fluorocarbon (PVDF) It has good formability and color retention, good outdoor durability and powder resistance, solvent resistance, limited color and high price.

12-20
Quality Control
We have our own Physical & Chemical Testing Center Lab. to guarantee our product quality. Our test items & instrument fully meet international standards.

Packing Details
Standard Export Packing:
4 eye bands and 4 circumferential bands in steel

Galvanized metal fluted rings on inner and outer edges

Galvanized metal and waterproof paper wall protection disk

Galvanized metal and waterproof paper around circumference and bore protection

About the sea worthy packaging: extra reinforcement before shipment to ensure that the goods are safer and less damaged to customers.